The official workshop will start on Tuesday, 4 June, 2019 at 1:30pm and will finish on Friday, 7 June, 2019 at 1pm. Tuesday morning and Friday afternoon will be reserved for informal exchange of participants.
Call for abstracts
If you would like to present some of your own ISIMIP-related scientific work at the ISIMIP workshop, then please have a look at the following two calls for abstracts and submit your abstracts via email to This email address is being protected from spambots. You need JavaScript enabled to view it. by 31 March, 2019.
Call for abstracts: Recent and planned studies on ISIMIP future projections
Call for abstracts: Model evaluation and attribution using ISIMIP historical simulations: recent publications and future works
Agenda:
last update: 3 June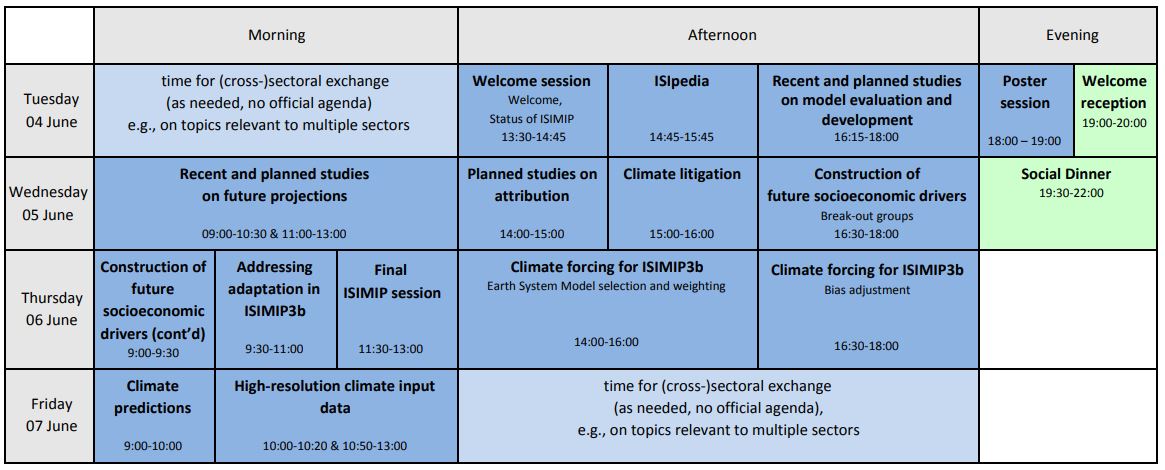 Here you can find the detailed agenda.
More details will follow in the next weeks and months until the workshop.
If you have comments or questions regarding the workshop agenda, please contact Felix John, the ISIMIP project manager, at This email address is being protected from spambots. You need JavaScript enabled to view it..